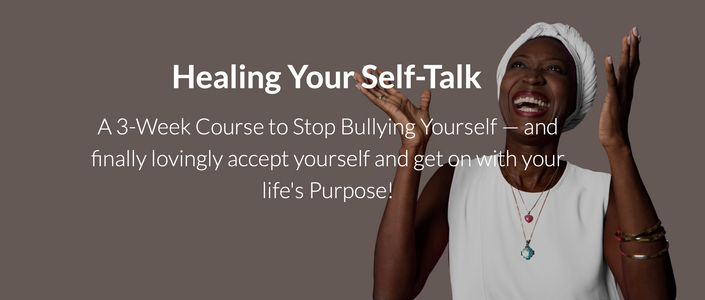 HEALING YOUR SELF-TALK
A 3-Week Course to Stop Bullying Yourself — and finally lovingly accept yourself and get on with your life's Purpose!
Do You Love Yourself?
Do you feel confident going after what you want because you know you're worthy of it? Do you love yourself enough to know that your failures, and your successes, don't define you? Do you have full control over your life? Are you happy? Do you love yourself enough to stand in who you are regardless of what others might think? Do you treat your body with love and respect? If you're like most of us, you may be struggling to answer a resounding yes to those questions.
Raise your hand if any of the following beliefs or situations sound familiar…
- You spend a lot of time overthinking and replaying negative chatter in your mind.
- You hear a voice calling you worthless and unlovable or constantly doubting your abilities
- You think that no matter how hard you try, you are never good enough.
- You feel like a failure because you struggle to handle your kids, your job or your duties and don't know what to do.
- You compare yourself to others and often make excuses.
- You try to act natural with people when your inner bully is telling you that you are a fraud.
- You remain in an abusive or painful relationship because no one else will ever love or want you.
- You remain single to avoid being hurt again.
- You please people around you in a bid to not be rejected.
- You hide your dreams and true desires because they are only fantasies and you are afraid to fail.
- You speak badly about yourself in your head.
Why Are We Our Worst Enemy?